Choosing a map for an adventure is easy right? The standard map for hiking for many years has been the Ordnance Survey 1:50000 set of waterproof laminated maps which retail for about €25. More recently, though the company has apparently been inexistance for over 30 years, EastWest mapping have produced €9.99 maps of specific areas of interest at a scale of 1:25000 and are water resistant. I am aware that the OS issue some 1:25000 maps but I don't have one to compare with so here's my thoughts on what map you should get out of the two I have.
The most obvious difference is in the scale. 1:50000 gives you 1km in 2cm, whereas 1:25000 is double that at a kilometer for 4cm. But what does EastWest do with the extra space and is it a useful use of space? Here's a comparison of the two maps on a mountain in Mayo, both are dated 2015.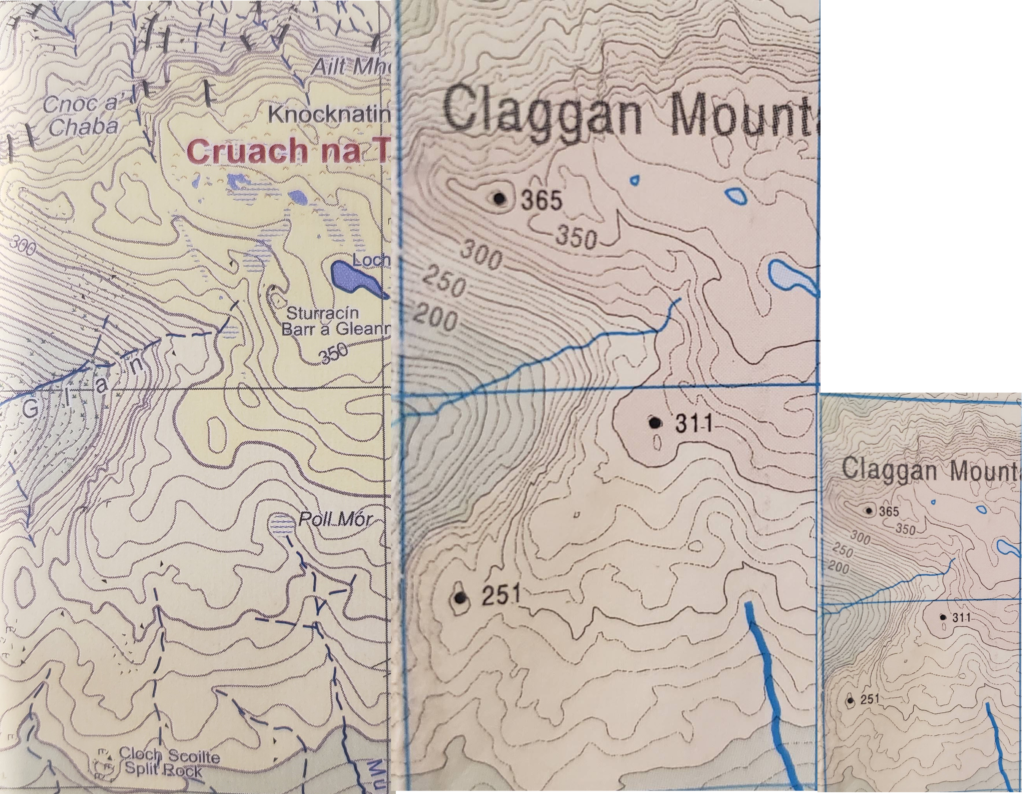 The contour lines are a good place to start with the similarities. They are almost identical as both maps use 10m differences with a thicker line every 50 and a change of base colour every 100.The lines are thinner on the OS map so you get the same number of lines, but the steep ground to the left of the 311 spot height is more pronounced on the OS map due to the scale.
But as you would expect the EastWest map does have more detail. We have names of specific points, locations of 'intermittent streams', cliffs explicitly marked, marshes and upland grazing indicated. The OS map does include spot heights but they aren't really that useful. The spelling and lanuguage on the maps also differ; this may be down to the gaealtacht dialect or one using more local names for features; I'm not sure but I suspect EastWest have done more local research into placenames.
Taking a look at an town square kilometer we see similar differences: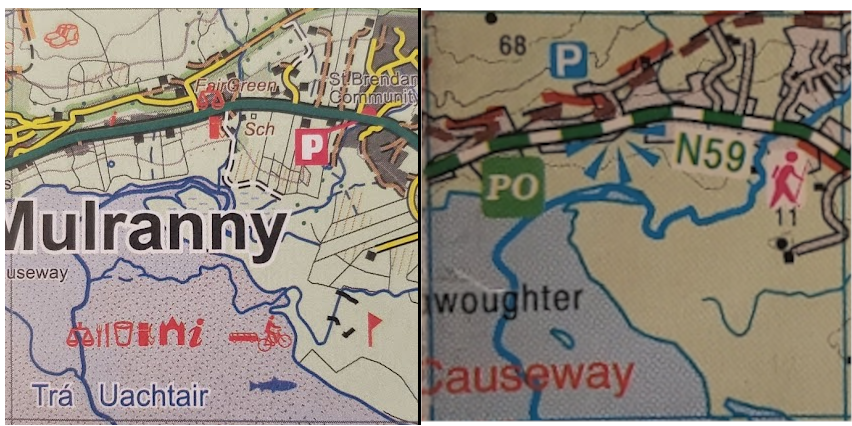 The EastWest Map can indicate smaller roads better and includes field boundaries along with more detail in general.
Which is better? I've always found the 1:50000 adequate for navigation, even on courses where I have to navigate by map and compass. Though the additional scale and information in the 1:25000 is nice. The scale wouldn't be enough to push me either way.
The next point to consider is coverage. The EastWest map is two sided with a map on each side. In the case of the Nephin maps that gives one side from mulranny up to ballycroy, and the other face from Ballycroy up to Bangor Erris with a decent overlap.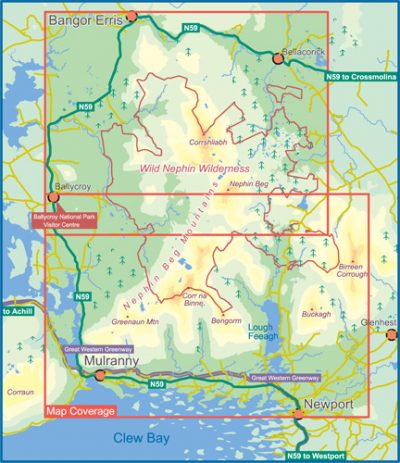 The OS maps on the other hand are divided up strictly along latitude and longitude and to cover the same area you need 4 maps! In some areas this works ok, you get most of Wicklow in Sheet 56 for example, but doesnt for the Wild Nephin National Park. The OS do cover more useful areas in their 1:25000 series but I don't see one of those available for this national park yet. So which map will suit best depends on where you want to go; in the case of Wicklow you'll need to get a couple of East west maps…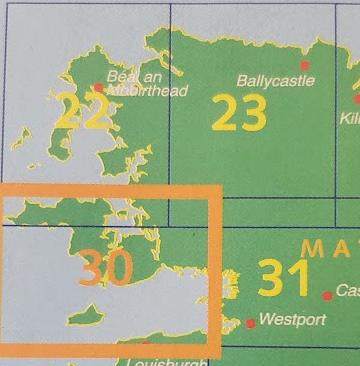 Lastly there's the waterproofing. The OS maps come in either paper or fully laminated. The fully waterproof versions have never failed me, and they have been stuffed in bags, pockets, and been out in all weather. The East West maps however are printed on plastic and while this does give them some waterproofing they do not survive the abuse of being stuffed into pockets and bags. The EW web page does mention 'fully encapsulated' maps for some areas.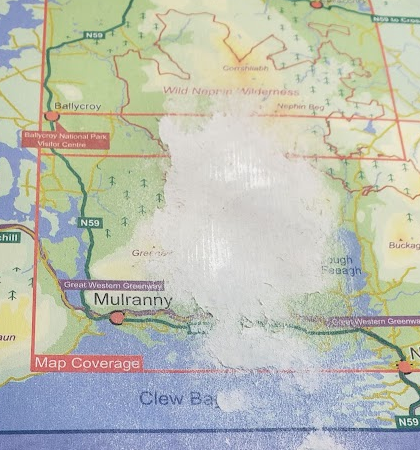 So when choosing a map which should you buy? It depends… Firstl figure out the are that you need a map or maps for obviously, then:
If you will be hiking or wild camping get a fully waterproof map. It'll last longer and take more abuse.
If you can get fully waterproof maps from both then see how many maps you need. At up to €25 each you don't want to have to buy too many of them!
Decide if the scale matters to you. This is related to point 2, but to me is an additional bonus rather than a requirement.
For me then the next time I need a map I'd have no problem buying the fully waterproof maps from either EastWest mapping or the Ordnance Survey. What I buy will come down to the area covered. For Wicklow I think I'll stick to the OS sheet 56 laminated edition, but for an extended trip in the Nephin Wilderness I'd get a fully waterproof EastWest mapping map if they have one available.