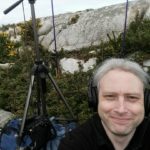 The Yaesu FT-817ND is advertised as "the world's first self-contained, battery-powered, Multi-mode Portable Transceiver covering the HF, VHF, and UHF bands." Although it can only put out a maximum of 5W it is very popular, particularly for Summit On The Air type activity.
There are a couple of caveats though. The internal battery won't last long, and the radio defaults to using 2.5W transmit power when using the internal battery. That might be enough for a making a few QSO's while out and about, but for camping, SOTA activations or field day use a bit more power will be required.
The rig has a 13.8V power input, via a not very robust connector, so most "12V" type batteries could be used to power this. There are plenty of references online of people using Lead batteries, LiPo batteries, packs of NiMh's etc. But I decided to go for a Lithium Ion Phosphate (LiFePO4) battery. There were two main reasons I chose this: 1) They are light. 2) They don't seem to explode as much as Lithium Ion Polymer batteries!
I bought a ZIPPY Flightmax 4200mAh 4S2P 30C LiFePo4 Pack. This came with some connectors that I assume are designed for model aircraft but I replaced them with Anderson Powerpole connectors (the 10AWG cable is thick btw!). And yes it is resting on a fireproof bag – I'm playing it safe!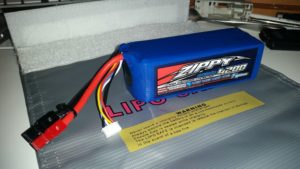 The battery needs a special type of charger. IMAX B6 50W 5A Charger. There are cheaper options but being new to this technology I wanted something with a good reputation. This charger can charge my battery in about an hour (it's important not to overcharge these batteries so read the manual). It does a balanced charge which makes use of the other connector on the battery to ensure that each cell has the same voltage while charging. The charger comes with a bunch of cables – I found the crocodile clips the most useful. It also runs off 11-18V input not mains. It comes with a pretty good manual, and there are a few youtube videos showing you how to set it up.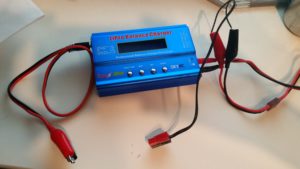 That balancing connector also comes into use when using the battery. This type of battery should not be discharged below about 3.1V in each cell, otherwise you may not be able to recharge them. But the fall off in voltage is quite sudden so you need to pay attention to the voltages: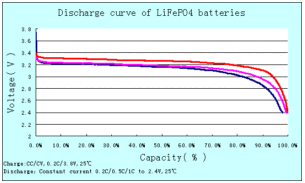 An example rate from http://www.pdbattery.com/prismatic-lifepo4-battery.html
Thankfully there are cheap solutions to alert you when the voltage is going low. I got this little voltage checker for €5 that beeps (loudly!) when a cell goes below the threshold. After charging the batter measures 13.4V on the voltmeter (13.1V on the radio), the packaging says 13.2V, and when in use the voltage is stable around 12.8V (12.6 according to the radio). At the low threshold of 3.1V in a cell it'd be 12.4V. Now the back of the 817 says the input voltage is 13.8V. However the manual says the Normal operating voltage is 13.8V +/- 15% which is 11.73V – 15.87V so we should be fine.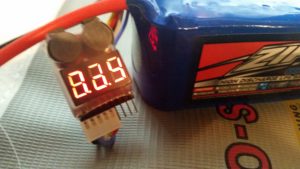 It's telling me that that cell is at 3.35V. Trust me 🙂
I mentioned that the power connector on the 817 feels a bit flimsy. So to be on the safe side I ordered a Yaesu cable from Waters and Stanton for £5 the added Powerpole connectors and an inline fuse from Halfords as the battery can discharge at 100A+.
The battery, charger and voltage alarms I got from hobbyking.com. They have an option on the site to order from a UK warehouse, and I used ParcelMotel to save on the postage. Battery was €45.25, Charger €31.11, fireproof bag €4.09, voltage checker €5.54, shipping €12.28.